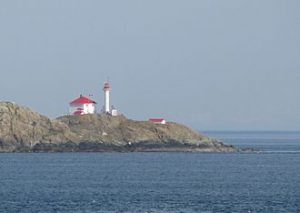 Start point: 2:18 Run, Fairfield Plaza, 1576 Fairfield Road, Victoria V8S 1G1
Registration: This is a self-registration event. Please ask for the Walk Binder at the front desk. The store is open Monday to Saturday from 9:30 a.m. to 6:30 p.m. and on Sunday from 11:00 a.m. to 5:00 p.m. The store may be closed on statutory holidays or when the owner is away. Call 250-598-2378 for confirmation of hours.
Contact: Judy 778-977-0455
Programs: Lighthouse and Famous Canadians
There are three routes from this location.
Fairfield Lighthouse (6/10 km). The 10  km walk heads through Ross Bay Cemetery, east along the ocean, onto the beach at Gonzales Bay, through the Chinese Cemetery with its Trial Island Lighthouse outlook and through neighbourhoods in Fairfield and Oak Bay. The 6 km route includes these highlights but remains in Fairfield. Trail rating is 2B/2C.
Ocean, Park and Rockland Heights (6/10 km). The 10 km walk heads through Ross Bay Cemetery, west along the ocean on Dallas Road and into James Bay, through Beacon Hill Park and Rockland past Craigdarroch Castle and back through Fairfield. The 6 km route follows the same ocean route to Cook Street and returns through Fairfield. Trail rating is 2A/2B.
Fairfield with Ocean Vista (5/10 km). Highlights of the 10 km walk through the Fairfield-Gonzales neighbourhood include the Ross Bay Cemetery, Gonzales Beach Park, a brief climb up to Moss Rock Park, a short walk through the eastern part of Beacon Hill Park before returning to the Fairfield Plaza via residential streets. The 5 km route returns via Cook Street, over to Rockland Avenue and through Fairfield. Trail rating is 2A.