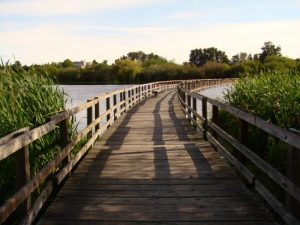 Start point: Cedar Hill Recreation Centre, 3220 Cedar Hill Road, Victoria V8P 3Y3.
Registration: This is a self-registration walk. Please ask for the Walk Box at the front desk. The recreation centre is open Monday to Friday from 6:30 a.m. to 10:00 p.m. and on weekends from 8:00 a.m. to 9:00 p.m. The centre may be closed on statutory holidays. Call 250-475-7121 for confirmation of hours.
Contact: Donna  250-595-9090
Programs: Boardwalks
There are three routes from this location:
Swan Lake (5/10 km). Follow the trails around Cedar Hill Municipal Golf Course. Pass through Playfair Park (great rhodendron displays in the spring) to the trail around Swan Lake Nature Sanctuary. Trail rating is 1B/2B.
North Cedar Hill (5/10 km). This walk explores parks and trails in the lovely areas to the north of the recreation centre. Trail rating is 1B.
Bowker Creek (6/10 km). These routes follow the mysterious Bowker Creek. Sometimes it's hidden, sometimes it's a beautiful urban stream. Trail rating is 1B.