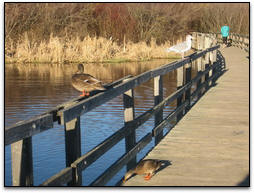 Start point: The Running Room/Walking Room, #330 Broadmead Shopping Centre, 777 Royal Oak Drive, Victoria V8X 4V1.
Registration: This is a self-registration event. The store is open Monday to Friday from 9:30 a.m. to 9:00 p.m., on Saturday from 9:30 a.m. to 6:00 p.m. and on Sunday from 8:30 a.m. to 5:00 p.m. Closed on major holidays. Call the store to confirm hours – 250-881-1051.
Contact: Marion  250-477-9851.
Programs: Boardwalk Program
There are six routes from this start point:
Broadmead Trails (5/10 km). A scenic walk on chip trails around Rithet's Bog, a bird sanctuary, and on lovely treed streets and trails in the Broadmead residential area. Trail rating is 2B.
Blenkinsop Lake (5/10 km). Enjoy a walk on trails through parks, on residential streets and over the restored Blenkinsop Trestle. Trail rating is 2B.
Cemetery Loop (5/10 km). Offers views of the San Juan Islands and Mount Baker. After a steep climb on the first part of the walk and a set of stairs down to Doumac Park it is a relatively flat walk including a wander through Royal Oak Cemetery. Trail rating is 3C.
Colquitz River Trail (5/10 km). A scenic walk that follows the creek along wide trails and residential streets. Trail rating is 2B.
Christmas Hill (5/10 km). Climbs to the top of Christmas Hill with glorious panoramic views of Victoria. Sorry, no dogs allowed in Christmas Hill Nature Sanctuary. The five km route does not go to the top of the hill. Trail rating is 2B/3C.
Outerbridge Park (6/10 km). Meanders on trails and through several parks in the Broadmead area. Trail rating is 2B.